Here is this week's Freedom Friday card! This is another one for the awesome project
Operation Write Home
. If you haven't checked out the program you REALLY should... Go ahead... now is good...
Again, this is simple and reasonably quick to do, but I think has a big impact. I assure you, if you've never stamped your own pattern and water colored it, you'll be hooked! I find it a very calming activity. :)
Now on to other fun!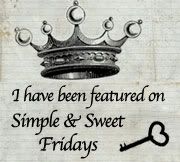 It's been an exciting week! I hope you've enjoyed this week's projects and I look forward to sharing more with you! And thank you for all of the wonderful and sweet comments, I read ALL of them, and enjoy each and every one. I wish I had time to respond to each one but that has proved to be a bigger task that a FT working mother, blogger and crafter can handle. :D I know all of you with blogs out there get it!